SiliconAid Solutions Management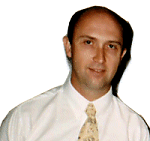 Jim Johnson founded SiliconAid Solutions, Inc. in 2001. Jim has over twenty five years experience in the semiconductor industry, focused on Design-for-Test and manufacturing test challenges. Jim has extensive DFT expertise in all related areas of test, design, and Design-for-Test.
Jim has gained experience through positions with National Semiconductor Inc., Motorola Semiconductor Inc., and Mentor Graphics Corp. Jim has proven his ability to be an effective bridge between management, design, test, DFT, failure analysis and manufacturing engineering teams. His broad background gives him the ability to identify and correct problem root causes quickly and efficiently, independent of tools or methods.